Since its first day on the water over 50 years ago, Cobalt's commitment to performance, luxury and innovation has continued to set the standard for boating excellence.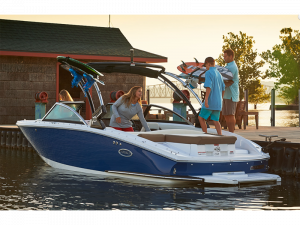 Cobalt offers:
Patented Swim Step for easy water access
Maximum interior space
16-layer hand-laid fiberglass at keel
Deep-V hull design for smooth ride
Double French-stitched interiors
Molded-in gelcoat graphics on exterior
Extended running surface
SPORT PACKAGE
The Cobalt Sport Package brings an additional high energy touch to the already-athletic Surf Series models. With bold interior color accents, color matched gauges at the dash, and a special edition water sports tower, your new CS23 Surf will step-up and stand-out.
Learn More: CS23 Surf: Wakesurfing Technology Perfected | Cobalt Boats